Beach Babe
Here is a shot of our newest puppy on the beach in Oceanside. Her name is Kona.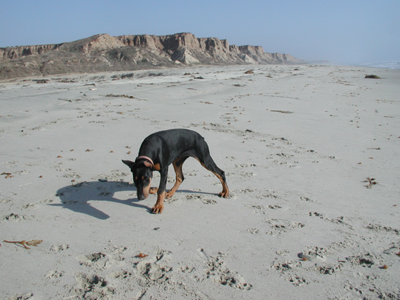 Notice how there is no one on the beach? How did I do that in Socal (Southern California) during the day?
Well that's a secret location with access restricted to pass carrying personnel only. It's near Red Beach on Camp Pendleton and you need a base decal and a 4-wheel drive to reach it. On this day we only saw 6 other people (and 3 dogs) in a 2-hour span.
If you like to be out of the crowds, then this place is heaven.
Me and the dogs found a huge, rank-smelling sea lion that washed up on the beach a few hundred feet north of where this photo was taken. Not sure what might have killed him, but he was a giant animal and maybe it was old age.